During the first of March I had the opportunity to travel to Dubai with the Seattle Chamber of Commerce. All you hear about Dubai and Abu Dhabi is true. They are still building highways, high rise buildings and a grand cultural center on reclaimed land in Abu Dhabi. My trip was not for business but to experience the culture, food and see what everyone reports about the building of a new city.

I was interested in the spice market of the old city of Dubai, (spice photo insert), it was only about 20 or 30 shops but wonderful fresh spices and herbs. The choices of saffron were amazing from $2.00 an ounce to $20.00 an ounce. You had to be careful, in this case quality does make a difference.

We also went to the date market, vendors set up in open air stalls, selling twenty plus types of dates. Each vendor better than the next, our whole group bought dates and ate them on the bus.

We experienced meals in restaurants, homes and private clubs, the most common dishes served were tabbouleh, hummus and lamb.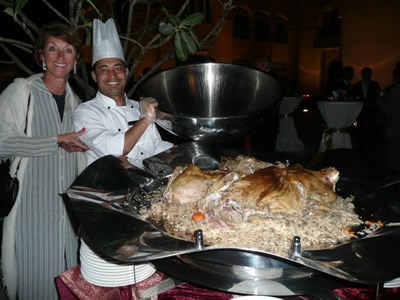 One evening, we were guests at the private home of the biggest developer in the region. The presentation of lamb was amazing, it was only thirty days old and so tender something that only pictures can tell the story.

This led me to purchase two cookbooks in Dubai, both translated into English, so one weekend, I set out to create a perfect Tabbouleh.

Tabbouleh usually came to us as a "Meze" before the meal, but it is also great as a side salad. Some versions had more bulgur, others more parsley. The following recipe was my final creation after making three versions.

I would love to hear everyone's ideas, especially if you grew up in a Lebanese household.

Note about Hummus:
I believe in the U.S. hummus has taken on a life of its own, with so many additions of other flavors. In the UAE countries, the hummus was spread over a flat plate, drizzled with olive oil, and sprinkled with a smokie paprika and served with wonderful pita. The flavor was so pure since they soak dried garbanzo beans, cooked, then mashed them, no canned garbanzo beans here.