The passions of life are created everyday. The kitchen can only work if the ingredients are available to create a recipe. Our garden is a passion that my husband Carl and I share.
Our garden is broken into four sections; the front garden focuses on herbs. The herb garden is located just outside the kitchen door for easy access. Our vegetable garden is located in the back of our property and offers a wide range of produce starting in late April when the first lettuce, rhubarb and Swiss chard appear. Our garden provides continual fruits and vegetables until late fall with the final harvest of pumpkins and squash.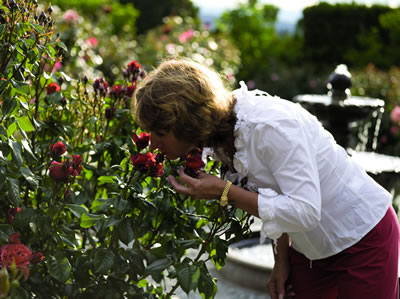 My love for roses has now grown to the creation of a formal rose garden with over 150 very special roses to cut for our home from May through October. The final section is a wild perennial garden that offers color to our yard from March to November. The photographs in my book of vegetables and flowers all were taken in our garden. I will share pictures and tips on a regular basis as I build this blog. On February 20 th we had 20 yards of mushroom compost delivered to be spread across our herb and vegetable gardens. We were fortunate to have a local source like H & B Topsoil in Tacoma, Washington to provide great compost for our gardens. To contact them call 253-472-1252.