RECIPES
Rhubarb and
Strawberry Crisp

French Potato
Green Bean
Salad with
Tarragon

Sweet Onions
and Rice

Tabbouleh

Roasted Red Pepper Soup

Turkey Chili

Humita

Seared Pork Cutlets with Green Garlic Salsa Verde

Spinach Balls with Mustard Dipping Sauce
Recipes

Nothing is more fun than bringing friends and family together for dinner. Iíve been throwing dinner parties of every size and style for many years now. From two to two hundred guests, denim casual to tux-and-tie formal, long-planned to last-minute, intimate conversation to dynamic celebration, comfort-food favorites to exotic international fare-itís all part of my entertaining repertoire today.

A few of my recipes are highlighted here. Be sure to check back often as we will be adding new recipes frequently to incorporate seasonal ingredients and inspirations from recent travels.

Along the way, Iíve discovered countless tools to help make dinner parties, luncheons, barbecues, and cocktail gatherings successful. These are the tools I share with you in my new cookbook: Memorable Recipes. My favorite recipes, my shortcut tips, my do-ahead suggestions, even a few menus that offer detailed game plans for pulling off a special dinner. Youíll be entertaining with style and ease in no time. Order your copy today!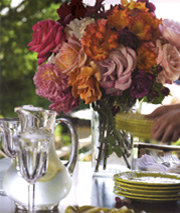 For more recipes from Renée,
click here to read her blog >