RECIPES
Rhubarb and
Strawberry Crisp

French Potato
Green Bean
Salad with
Tarragon

Sweet Onions
and Rice

Tabbouleh

Roasted Red Pepper Soup

Turkey Chili

Humita

Seared Pork Cutlets with Green Garlic Salsa Verde

Spinach Balls with Mustard Dipping Sauce
Roasted Red Pepper Soup




By Renée Behnke

Ingredients


6 red peppers roasted & peeled
3 carrots, small diced
3 stalks celery, small diced
1 ½ yellow onions, small diced
3 tbl vegetable oil
1 ¼ cup canned tomatoes diced with juice
2 bay leaves
1 tbl marjoram
1 tbl sweet paprika
6 cups chicken stock
1 tsp salt
½ tsp white pepper
½ cup half & half (optional)

Note: to remove skins from peppers - place peppers under broiler or over an open flame from gas burner or BBQ until skin is scorched and blistered.

Place charred peppers in bag for 20 minutes to steam. Now peel skin, discard and remove stems and seeds.

In pan add oil and sauté onions, celery carrots until soft and translucent, about fifteen minutes.

Add chicken stock, tomatoes, bay leaves, marjoram and paprika. Simmer for 20 minutes. Add peppers and continue to simmer 15 minutes until peppers are soft. Remove from heat, add salt, pepper and half and half if desired. Cool.

Puree in food processor, I love my magic mill, or blender.

Serve hot, reheat soup over low flame, do not boil. I usually chop a few chives and serve hot. Also a few grains of flour de lis and pepper.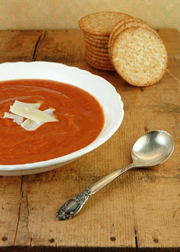 For more recipes from Renée,
click here to read her blog >