RECIPES
Rhubarb and
Strawberry Crisp

French Potato
Green Bean
Salad with
Tarragon

Sweet Onions
and Rice

Tabbouleh

Roasted Red Pepper Soup

Turkey Chili

Humita

Seared Pork Cutlets with Green Garlic Salsa Verde

Spinach Balls with Mustard Dipping Sauce
Rhubarb and Strawberry Crisp




By Renée Behnke

Ingredients


2 pounds rhubarb, trimmed and cut into 1-inch pieces
3 cups coarsely chopped strawberries
1 cup granulated sugar
¼ cup all-purpose flour
1 teaspoon finely grated lemon zest
1 tablespoon freshly squeezed lemon juice
Pinch of salt



Topping


1 cup all-purpose flour
¾ cup chopped toasted pecans or walnuts
¾ cup your favorite granola
¼ cup rolled oats (not instant)
½ cup packed light brown sugar
½ cup dried cranberries or raisins (optional)
1 tablespoon granulated sugar
½ teaspoon ground cinnamon
1/8 teaspoon ground allspice
½ teaspoon salt
½ cup unsalted butter, cut into pieces, at room temperature

Preheat oven to 375 degrees F.

Toss together the rhubarb, strawberries, granulated sugar, flour, lemon zest, lemon juice and salt in a large bowl and let sit, tossing gently one or twice, for 10 minutes. Spoon into a 9 by 13-inch or similar volume baking dish.

For the topping, stir together the flour, pecans, granola, oats, brown sugar, dried cranberries, granulated sugar, cinnamon, allspice and salt in a medium bowl until well blended. Add the butter pieces and stir well to evenly distribute the butter with the dry ingredients.

Scatter the topping evenly over the fruit. Set the baking dish on a baking sheet to catch any drips and bake for 30 to 35 minutes, until the edges are bubbly and the topping is lightly browned. Let sit for at least 10 minute before serving; serve warm or at room temperature.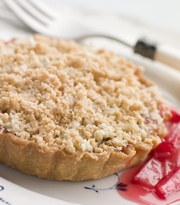 For more recipes from Renée,
click here to read her blog >