RECIPES
Rhubarb and
Strawberry Crisp

French Potato
Green Bean
Salad with
Tarragon

Sweet Onions
and Rice

Tabbouleh

Roasted Red Pepper Soup

Turkey Chili

Humita

Seared Pork Cutlets with Green Garlic Salsa Verde

Spinach Balls with Mustard Dipping Sauce
Sweet Onions and Rice




By Renée Behnke

Makes 12 Servings


½ cup unsalted butter
4 large (1-pound) sweet onions, quartered and cut into ¼-inch slices
1 cup long-grain white rice
8 ounces Jarlsberg or other Swiss-style cheese, grated
2/3 cup half-and-half
1 ½ teaspoons salt
½ teaspoon freshly ground black pepper

Preheat the oven to 325° F. Lightly butter a 9 by 13-inch baking dish.

Melt the butter in a very large saucepan over medium heat. Add the onions and cook, stirring often, for about 30 minutes, until the onions are tender and translucent but not browned, and they have released quite a bit of liquid. (The volume will have reduced by about half.)

While the onions are cooking, bring a medium saucepan of salted water to a boil of medium-high heat. Add the rice and boil for 5 minutes, just to partly soften. Drain.

Remove the onion pan from the heat and eyeball the amount of liquid at the bottom; add water as needed so there is about 1 cup of liquid. Add the drained rice, all but ½ cup of the cheese, the half-and-half, salt, and pepper. Sit until well blended. Pour the mixture into the prepared baking dish and cover with foil. Bake for about 1 hour, until the rice is fully tender. Remove the foil and sprinkle with the remaining ½ cup cheese. Continue baking, uncovered, about 20 minutes longer, until the cheese is fully melted. Let sit for 15 minutes before serving.

Notes:
Menu Ideas:
This dish will be a winner on any buffet spread, a wonderful accompaniment to a wide range of meat entrees, from simple grilled steak to Rack of Lamb with Rosemary and Garlic, serving Asparagus with Garlic alongside. Consider starting dinner with Spinach and Hearts of Palm Salad and wrapping things up with a light dessert, such as the Blueberry Tart or Ginger Cake with Lemon Cream. This recipe is a particularly good options when you're feeding a crowd.

Do-Ahead Tips:
You can prepare the onions and par-cook the rice up to 6 hours in advance and refrigerate. Assemble and bake shortly before serving.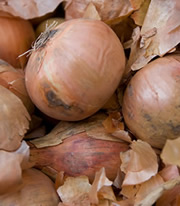 This easy baked side dish
has graced our dinner table
for years; I'm sure your family
will love it too. Sweet onions
are, thankfully, available
nearly year-round now,
between Walla Wallas from
my corner of the country,
Vidalias from Georgia, Maui
sweets from Hawaii, and sweet
onions from south of the
equator as well.



For more recipes from Renée,
click here to read her blog >