RECIPES
Rhubarb and
Strawberry Crisp

French Potato
Green Bean
Salad with
Tarragon

Sweet Onions
and Rice

Tabbouleh

Roasted Red Pepper Soup

Turkey Chili

Humita

Seared Pork Cutlets with Green Garlic Salsa Verde

Spinach Balls with Mustard Dipping Sauce
Tabbouleh




By Renée Behnke

Ingredients


1 cup bulgur wheat, fine grain
2 cups boiling water
2 tablespoons olive oil
½ cup green onions, chopped fine
½ cup sweet onion, chopped fine
1 cup fresh mint, stems removed and chopped fine
2 cups fresh parsley, stems removed and chopped fine
¾ cup English cucumber, diced fine, if using regular cucumber, peel and seed first
½ cup fresh lemon juice
1 teaspoon lemon zest
½ cup good olive oil

1 teaspoon salt
1 teaspoon pepper
¼ cup tomatoes, seed and dice

Place bulgur, olive oil and boiling water in bowl, stir and cover with plastic wrap, allow to rest at least thirty minutes.

Place mint, parsley, onion and cucumber in a bowl, mix together.

Combine lemon juice, zest, olive oil and salt and pepper, whisk to blend.

Drain bulgur in a strainer to make sure any water not absorbed is drained off. Add bulgur to rest of ingredients and pour dressing over. Mix well. Now add tomatoes and allow to rest at least thirty minutes.

Serve with hearts of Romaine as an appetizer or side salad. Pita bread is also used to scoop up Tabbouleh.

Notes:
Parsley choices:
You may use flat leaf or curly parsley, the flat leaf has a much stronger flavor, favored in middle eastern countries.

Tomatoes:
By seeding the tomatoes, you will keep their juice from diluting the dressing.

Adding dressing:
If you are making the Tabbouleh several hours or the evening before, wait to dress until one hour before serving. This keeps the acid of the lemon from dulling the flavor of the green herbs. You may need to add more salt and pepper for your own taste. The Tabbouleh should not be wet, this is about the herbs not the dressing.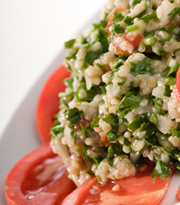 I have made Tabbouleh for
years but this trip made me
want to create the best dish
possible. The following came
from creating three different
versions, this is the winning
recipe.



For more recipes from Renée,
click here to read her blog >